Disney Plus, the much awaited video on-demand streaming service is all set to be launched on April 3rd, Friday (postponed from the earlier scheduled date of March 29th, as a knock-on effect of the delay in the launch of IPL, 2020). Disney Plus shall be launched in India via the video streaming platform 'Hotstar', where the latter shall be upgraded to Disney+Hotstar. The "Netflix Vs. Disney Plus" war is one of the largest challenges faced by Disney Plus in India. While the existing Hotstar VIP and Hotstar Premium subscribers shall bear no additional cost till the end of their subscription plans, the new subscribers will be charged a separate annual subscription fee.
Disney Plus shall offer the following plans:
Disney+Hotstar VIP, with an annual subscription fee of ₹ 399 ($5.30), shall give access to movies from the entire Marvel Cinematic Universe, including superhero movies like 'The Avengers' along with some recent Bollywood releases in addition to shows and live sports already hosted by Hotstar.
Disney+Hotstar Premium, with an annual subscription fee of ₹ 1,499 ($19.90), shall give additional access to English Language content and several Disney+ Originals such as 'The Mandalorian' and the latest American shows from HBO, Fox and Showtime.
Also Read: Disney is ready to cut throats in the video streaming market. Here's how the game is set to change
Disney Plus Vs. Market Rivals
To have a say in the fiercely competitive Indian Streaming Services market, with the ever-ravaging "Netflix Vs. Disney Plus Wars", Disney Plus must have an edge over its Indian counterparts. With reduced Internet prices and the rise of a young, diversified generation, Video on demand services have experienced a major boom in India. Accordingly, as per a December, 2019 data, Netflix boasts of a subscriber base of over 67.1 million paid subscribers in India. The number of Amazon Prime Video subscribers stood at 150 million worldwide, as of January, 2020, a massive portion of which, are suspected to be Indian subscribers.
The above content providers are then followed by Voot, which hit its target of 100 million subscribers, 2 months ahead of target, in January, 2020, Zee5, which amassed a mammoth 61 million active users in its first 15 months, and ALTBalaji, with over 1.5 million active subscribers, as of December, 2020. Having said that, the "Neflix Vs. Disney Plus" war appears to be the least of Disney's concerns.
However, Hotstar continues to be the Video on Demand market leader, with over 300 million Plus subscribers. Coverting your staunchest prospective industry rival into your ally is nothing short of a master move. Inking a deal with Hotstar, to gain the necessary traction in the India market and battle it out in the "Netflix Vs. Disney Plus" war is perhaps the best decision that Disney Plus could have taken.
Image: Netflix Vs. Disney Plus, and other content providers
Global Service Offering
Disney Plus was launched in the USA in the month of November, 2019 and only last week in the UK, on 24th March, 2020. It was already available in Canada, Netherlands, Australia, and New Zealand. Plans of further expansion in Europe and Latin America are also underway. In the US, a bundled subscription of Disney+ along with ESPN+ and Hulu's Basic Package can be availed at $12.99 a month, which saves $5 off individual subscriptions to the services.
The Disney+ global repository consists of five separate content hubs for Disney, Pixar, Star Wars, Marvel, and National Geographic. It also features content from Fox, like The Simpsons and a host of Disney+ Originals. As of February, 2020, Disney+ had a total of 28.6 million sign-ups, which implies that people really want the service.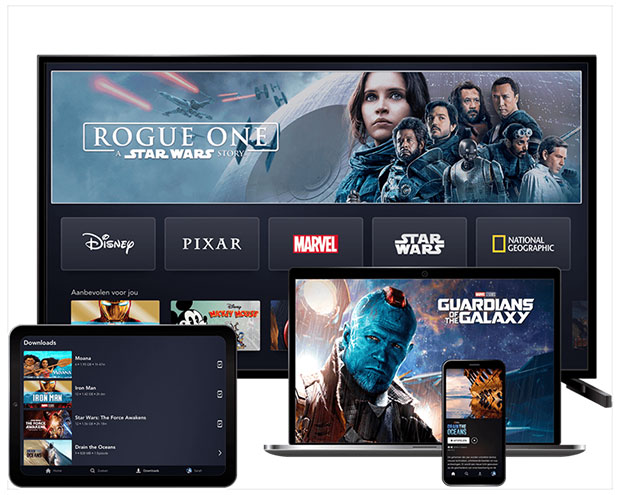 Image: Disney+ offers a large repository of content
The Indian Perspective
As stated earlier, Disney Plus shall be available in India via Hotstar. Now Hotstar, which was acquired by Disney as part of the US$71 billion Fox acquisition, has a ready base of 300 million plus monthly active users, according to a March, 2020 statistic. The vast Indian population, with varied and seasoned tastes, and a growing appetite for video on-demand services offers a great opportunity to use the proven platform of Hotstar to launch the new Disney+ service, as per the then CEO, Bob Iger.
The following are other factors that shall catalyse the success of Disney+ in India:
Family friendly content: Disney Plus focuses on 'family-oriented entertainment'. No R-rated, NC-17-rated or TV-MA-rated programme is featured on the platform. Content includes animated content, including a plethora of Disney's, Pixar's and Marvel's reserves of animated and Sci-fi shows, movies, and National Geographic Documentaries. This shall be a major attraction for the young Indian, technology-addicted population. Targeting the underage crowd in marketing efforts shall act as a major benefactor for the platform.
Existing Customer base: Hotstar shall offer a ready playing field, and ease of entry for Disney Plus into the Indian Streaming Services Market. With an existing active user-base of 300 million plus viewers, Hotstar shall offer a ready means of promotion to the platform, aiding it to root its stilts deep into the Indian soil. Moreover, the 7-day free trial model shall inhibit a further sale of services and attract paid subscriptions.
Special attractions: Apart from the general attributes, Disney+ offers upto 4 simultaneous streams, a maximum of upto 7 profiles sign-ins, and as much as 10 devices with a single paid account. The facility of downloading movies and shows in a range of resolutions (Standard, Average and High) is also available. In addition to this, a small slice of Disney+Hotstar's content pie shall also be available in 4K/HDR (High Dynamic Range) and Dolby Vision, and shall be available at no cost.
Large content repository: Disney+ has it all planned. Its content ranges from a huge collection of Disney+ originals, Marvel's movies and TV shows, including its largely awaited 'The Falcon and the Winter Soldier' and 'Wanda Vision', the Star Wars saga and The Mandalorian. Disney Plus has 30 seasons of 'The Simpsons' from Fox, too, which means that it might use Fox's monstrous catalog of movies and shows (which goes as back as 1930s), to fill in any gaps in its programming schedule.
Additional Competencies vis-à-vis Netflix: Disney Plus is highly economical as compared to Netfix. While Netflix Premium subscription costs around $12.99 (₹799) a month, Disney+Hotstar Premium shall cost merely $19.90 (₹1499) for the entire year. Exclusive Disney+ content is bliss for Marvel fans, Disney Diehards and Sci-fi fanboys. High-quality streaming (4K HDR and Dolby streaming for certain shows) and a host of Disney+ Originals is another one of Disney's major strategy in the Netflix Vs. Disney Plus clash. The expiry of licensing rights of external content providers with Netflix may even bring additional content to Disney Plus.
The Weak Spots
To say that Disney Plus has gargantuan business expansion plans would not be wrong. Disney Plus Marvel's TV shows such as The Falcon and the Winter Soldier and Wanda Vision are estimated to have a budget of around $25 million per episode, while The Mandalorian is estimated to have a budget of around $15 million per episode. It also removed popular Marvel TV shows (Daredevil, Luke Cage, Jessica Jones, and Iron Fist) from Netflix, which helped it mint some serious money (around $300 million). This implies good profit forecasts and Disney's vigour to emerge victorious in the Netflix Vs. Disney Plus scuffle. However, the landscape may not be as rosy as it sounds for Disney Plus due to the following factors:
Limited Audience: In its bid to offer family oriented content, Disney Plus might miss out on the larger part of the Indian Population.
Image: Disney+ may have a limited comparative Audience
Limited Content: In the era of Netflix, where fresh content is added almost every week, Disney Plus offers extremely limited content for its viewers. For a start, it would barely offer content from outside of the Disney, Marvel's and Pixar Universe. External source video licensing shall require some major, and vastly unfeasible investments. Absolutely new stuff shall not be made available on the platform, as Disney would not undergo a cut in its Blu-ray sales. Thus, the content offered on Disney Plus shall be over 6-months old – A table turner in the Netflix Vs. Disney Plus battle.
Technical Issues: Disney Plus viewers also reported technical lapses such as the unreliability of the 'resume' function. While platforms like Netflix save the exact spot down to a second, Disney+ users reported bugs while using the resume function. The service also went down on the date of its release in the USA.
Needless to say, Disney+ is offering great content to its Indian subscribers, and with passing time, it shall strengthen its position in the Streaming Services market. The lack of content is very well made up by the reduction in prices for the plans offered. It has fuelled in some big bucks in the project, and has some big plans for the road ahead. With all this, Disney+ is all set to offer a packing punch to other content providers including Netflix in India.